Let's celebrate the new era together !
|
Exit Heisei era, here is Reiwa era ! 🍾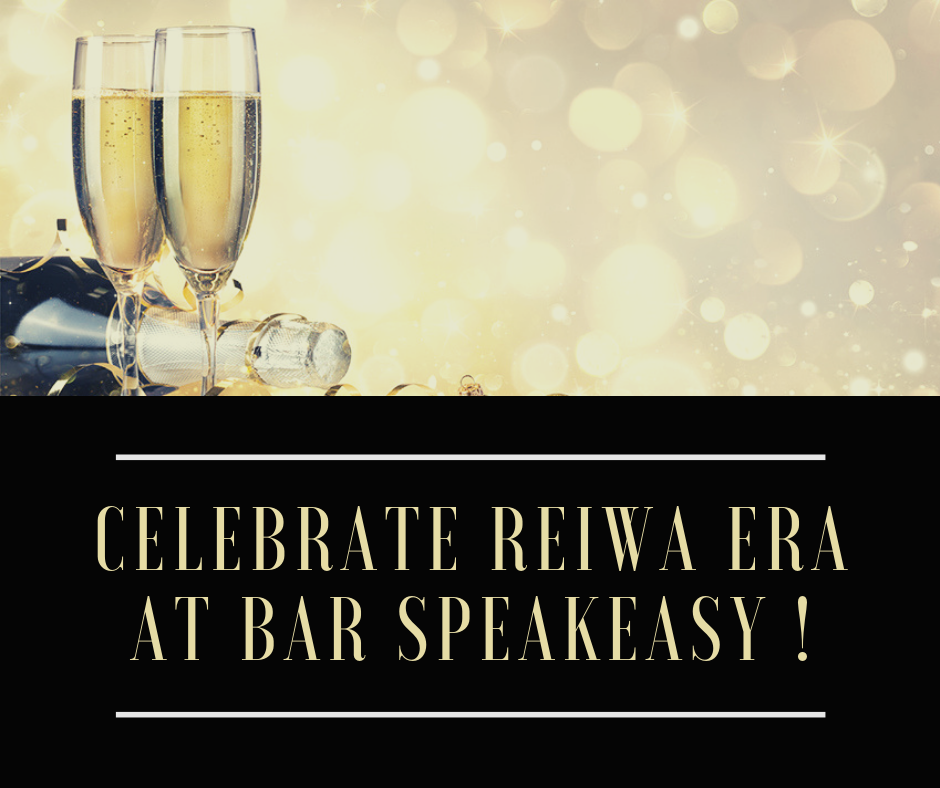 This week, Japan has lived a landmark event : Emperor Akihito has abdicated yesterday, on Tuesday, April 30th 2019, and his son Naruhito has become the new emperor of Japan today.
Why don't you come to bar SpeakEasy tonight to celebrate a Reiwa era party with us and many locals, while enjoying some delicious drinks ? It's a really unique occasion to meet people from everywhere and discuss about the good old times of Heisei era, as well as the next good times ! 😉
You want to learn more about this change of era ? Here is a short lesson !
The abdication of Emperor Akihito has put an end to Heisei era (平成), also known as the era of "peace everywhere". He retired and passed his throne to his son, Emperor Naruhito, the 126th emperor of Japan.
It gave birth to a new era, at midnight of the 1st of May 2019 : Reiwa era (令和), the era of "beautiful harmony".
Then, year 2019 corresponds to year Heisei 31 until April 30th and Reiwa 1 from May 1.
Emperor Akihito acceded to the throne on January 8th 1989 after the death of his father, Hirohito, the day before. The era under which Emperor Hirohito reigned was known as Showa era. Heisei era witnessed one of the most rapid economic growth Japan has ever experienced, and will definitely remain a historic period for many Japanese people.
The last time an emperor abdicated in Japan was more than 200 years ago. Do you want to know what Japanese people think of it ? Do you want to enjoy the relax mood of this unique extra long Golden Week in Japan ?
Then join us at SpeakEasy international bar and meet many locals and foreigners ! We have a lot of different and cheap drinks like cocktails, beers, wine, umeshu… to celebrate this particular day in the most perfect way. SpeakEasy bar is right in front of Otsuka station, with access to JR Yamanote Line, the main line in Tokyo. Don't miss this occasion !
See you there ! 🥂