03.20 ST. PATRICK'S DAY PARTY!!
|
Thursday 20th of March, let's celebrate the St Patrick's day at Speak Easy!! The 21st is a public holiday in Japan, so no reason to go early to bed:) Bring your best GREEN clothes, hats or any accessories that look like Irish color!! We will decorate the bar in green, and we will try to get some special drinks for this special night!! Of course, Irish music will be a part of this. Let's travel to Ireland for a night!!
See you soon!!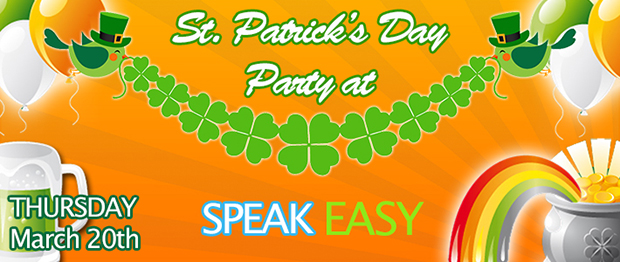 Thursday 20th from 18:00 – A Partir de 18:00 – 18時から
ST. PATRICK'S DAY PARTY!! – Entrance FREE!!
All drinks at ¥500 – Toutes les boissons à ¥500 – すべての飲み物500円
SPEAK EASY BAR で会いましょう!!
Check the Facebook event out!!
Célébrons la St Patrick au Speak Easy!! Le 21 mars étant un jour férie au Japon, aucune raison de se coucher tot!! Amenez vos plus beaux vêtements VERTS, chapeaux, ou tout autres accessoires aux couleurs de l'Irlande. Nous décorerons tout le bar en vert!! And nous essaierons d'avoir des cocktails spéciaux pour cette soirée spéciale!! Bien évidemment, de la musique Irlandaise retentira. Partons voyager en Irlande le temps d'une soirée!!
À bientôt!!
¡¡Ven y celebra con nosotros el día de San Patricio en Speak Easy!! El 21 de marzo es día festivo en Japón, ¡¡así que no tienes excusa!! Viste tus mejores ropas de color VERDE, así como cualquier accesorio o vestimenta relacionado con Irlanda, y disfruta de esta singular fiesta en nuestro bar, que estará decorado para la ocasión y en el que quizás puedas incluso disfrutar de ¡¡bebidas especiales para este día tan señalado!! Y por supuesto, la música tradicional Irlandesa estará también presente. Así que no lo duces más y viaje a Irlanda por una noche
¡¡Te esperamos!!
HOW TO FIND US:
LOCATION アックセス