It's gonna be the first FRENCH PARTY of 2015!
Special drinks as French Wine or Cider will be available, and some snacks! As it's the first one, we will also play most of FRENCH music!! We are waiting for you for this first French Party of 2015 at Speak Easy! To make it better, if you have some clothes Blue/ White/ Red, it's the time to bring them;) À bientôt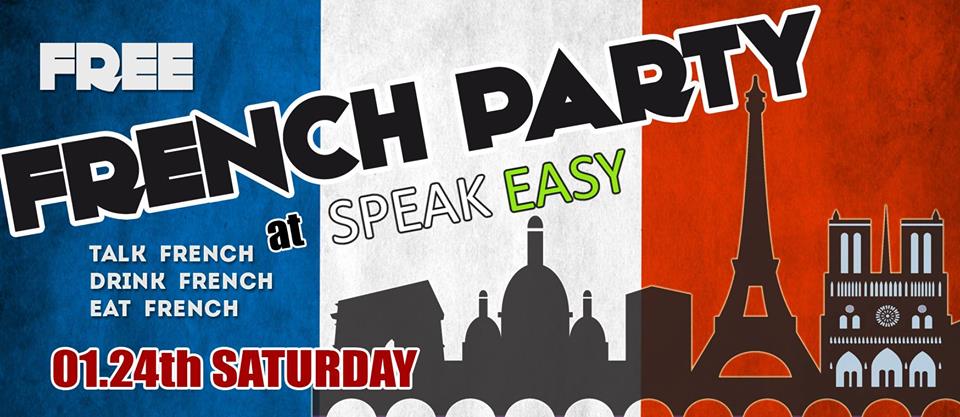 Saturday 24th January from 19:00 – A Partir de 19:00 – 19時から
FRENCH PARTY!! – Entrance FREE!!
All cocktails at ¥500. All beers at ¥600 – Toutes les cocktails à ¥500. Toutes les bières à ¥600 – 飲み物だけ 500 円。 ビール 600 円
SPEAK EASY BAR で会いましょう!!
Check the Facebook event out!!
Un samedi par mois a lieu la grosse soirée française du Bar Speak Easy!! Que vous soyez un de nos habitués ou fraichement arrivé au Japon, rien de tel que cet évènement pour rencontrer du monde et venir faire la fête avec la communauté francophone de Tokyo!!
Si vous êtes un japonais s'intéressant à la culture française, venez rencontrer des Français et faites vous de nouveaux amis sur Tokyo. Échangez, discutez, buvez en bonne compagnie le temps d'une soirée.
カジュアルフレンチパーティーです。
一緒にフランス語で話しましょう!
(英語やフランス語や日本語もOKです)
フランス人がいっぱい来るパーティをまたやります!友達をいっぱい作れるしSpeak Easyっていうインターナショナルバーでフランス人のバーテンダーと話して下さい!!
HOW TO FIND US:
LOCATION アックセス