German Night! June 14th from 6 pm 2017
|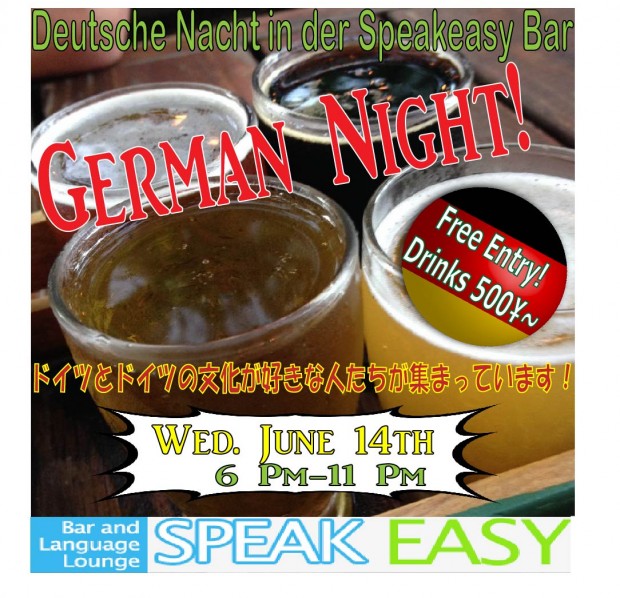 EN, JP, GR, CH ↓↓↓
EN
Tonight! Make friends at German Night!
Join us Wednesday, June 14th from 6PM to 11PM
Come to Bar SpeakEasy!
Free admissions and drinks from Y500!
Meet new people and practice your German language and English language skills!
How to find us:
http://speakeasy-tokyo.com/location/
JP
今夜ドイツ語の夜に、新しい友達を作りましょう! 6月14日(水曜日)午後6時—11時に、SPEAKEASYバーでお待ちしております! 入場無料、ドリンク500円〜! 新しい友達もでき、ドイツ語も英語も練習できる絶好のチャンスです!ぜひお見逃しなく!
GR
Heute Abend: Finde neue Freunde bei der German Night!
Besucht uns Mittwoch, den 14. Juni von 18 bis 23Uhr in der Bar SpeakEasy!
Der Eintritt ist kostenlos und Getränke gibt es ab 500Yen.
Trefft neue Leute in Japan, die Deutsch lernen oder erweitert eure eigenen Englisch- oder Japanisch-Kenntnisse.
Wie ihr uns findet: http://speakeasy-tokyo.com/location/
CH
就在今夜!让我们在德语之夜认识新朋友吧! 欢迎加入我们:6月14日,星期三,晚上6点-11点,不见不散! 我们在酒吧SPEAKEASY等你! 入场免费,饮品500日元起! 认识新朋友,并有机会提高德语和英语能力,不要错过哦!