04.12 Otsuka Rangers Party!!
|
You missed them after their last Big adventure?? Well… They're Back!! OTSUKA'S RANGERS RETURN!! They come back to save Tokyo from sadness and to make Order & Justice reign… What…?? No!! They come back TO PARTYYY!! Wear all your Ranger's Costumes and Join us at Speak Easy Bar on Saturday 12th for a funny Night!! Last time, 22 Rangers… Will we break this score…??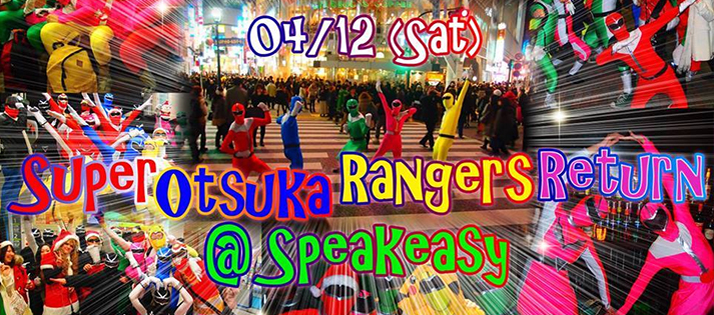 Thursday 3th from 19:00 – A Partir de 19:00 – 19時から
OTSUKA RANGERS PARTY!! – Entrance FREE!!
All drinks at ¥500 – Toutes les boissons à ¥500 – すべての飲み物500円
SPEAK EASY BAR で会いましょう!!
Check the Facebook event out!!
Ils vous ont manqué après leurs dernières aventures; hé bien ils reviennent!! Les OTSUKA RANGERS SONT DE RETOUR!! Ils reviennent enfin pour sauver Tokyo de la morosité et afin de faire régner l'Ordre et la Just… mais non, AFIN DE FAIRE LA FÊTE!! Enfilez Tous et Toutes vos Costumes et Rejoignez Nous au Speak Easy le Samedi 12 pour une Nuit de Rigolade!! La dernière fois, 22 Rangers… Battrons-nous le record??
¿Te perdiste su última aventura? Pues bien… ¡están de vuelta! Y es que, ¡¡los RANGERS DE OTSUKA están han vuelta!! Está vez tienen el objetivo de restaurar el orden en la ciudad de Tokyo y combatir los malos… esto… ¡Que va! ¡¡Han vuelto solo para montar una buena fiesta!! Coje tus mejoras ropas de Power Ranger y ven a Speak Easy el sábado 12 en lo que será una noche muy divertida. La última vez fuimos 22 Rangers… ¿Lograremos esta vez mejorar la marca?
HOW TO FIND US:
LOCATION アックセス