Let's come to celebrate the beginning of Spring with us!! It's already the time of hanami and picnic outside!! This night will be the right time to listen some Californian punk rock, and some music that bring sunlight in the Speak Easy!! Special deals on some Summer beers and cheaper price for the Internships in Tokyo (bring something to confirm it, to get ¥300 price on most of the drinks)!!
We will decorate the bar differently for this occasion, like Spring colors!!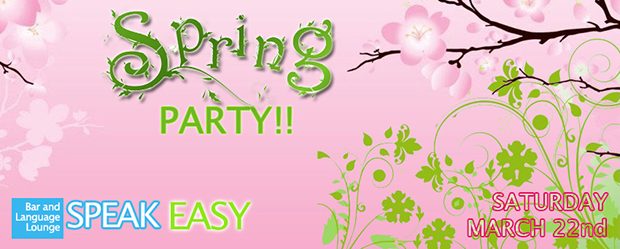 Saturday 22th from 19:00 – A Partir de 19:00 – 19時から
SPRING PARTY!! – Entrance FREE!!
All drinks at ¥500 – Toutes les boissons à ¥500 – すべての飲み物500円
Special price – ¥300 – for people doing Internship in Tokyo!!
SPEAK EASY BAR で会いましょう!!
Check the Facebook event out!!
Venez célébrer le printemps avec nous!! Le temps du Hanami et des pique-niques a l'extérieur est arrivé!! Cette soirée sera accompagnée de bon punk-rock Californien ainsi que de musique qui amènera du soleil au Speak Easy!! Prix spéciaux sur certaines bières et réduction de prix pour les stagiaires sur Tokyo(amenez de quoi le confirmer pour un grand choix de boissons à ¥300)!! Le bar sera décoré différemment pour l'occasion, aux couleurs du printemps!!
¡¡Ven y celebra con nosotros la primavera!! La temporada de Hamani y picnics ya ha llegado, y que mejor para celebrarlo que escuchar algo de Punk-Rock Californiano que alumbre nuestra velada en Speak Easy. Habrá precios especiales en ciertas cervezas y, aquellos que estén haciendo practicas en Tokio, ¡¡tendrán descuento especial en gran parte de las bebidas que ofrecemos (trae algo que lo muestre y paga solo ¥300 por cada bebida)!! Además, ¡¡el bar será decorado para ocasión con motivos primaverales!!
HOW TO FIND US:
LOCATION アックセス