Speak Easy international bar offers you a wide range of different kind of events, parties and exchange meetings, where you can easily meet foreign people and know more about cultures from all over the world. It doesn't matter whether you speak Japanese, English, Spanish, Russian, French, German, Chinese, Italian or any other language, at Speak Easy bar you will for sure have the chance to talk and meet new people and share many interesting stories about trips, traditions from here and there, curiosities and, in brief, a place where to have a good time talking and enjoying the wide range of drinks we offer !

LANGUAGE CORNER
Are you currently learning a foreign language ? Do you want to meet people from all around the world and boost your speaking skills ? Are you interested in foreign people and culture ? If you have answered yes to any of those questions, then you should for sure come over to Otsuka at our international bar Speak Easy during the week ! From Tuesday to Thursday, Speak Easy bar organizes special events to learn a language and get cultural knowledge through cross-cultural meetings. On Friday and Saturday nights, it's international parties, which means you can meet people from everywhere and learn about many languages and cultures !
This is the ideal place to meet new people from overseas sharing their culture. EVERYONE can come, it doesn't matter whether you are a beginner in Russian language and want to practice, fluent in Spanish and want to practice and entertain your level, or simply if you want to speak Japanese with locals or some English with the whole crowd. More generally, each individual interested in either a foreign or the Japanese culture is most welcome !!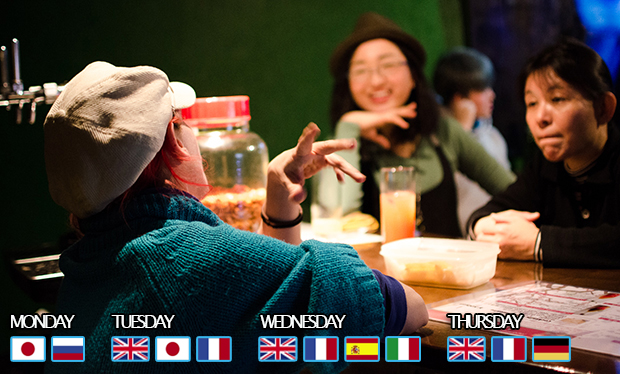 Some days quick lessons are offered for free, during the early hours of the evening. Often, some food specialties of the theme country are also presented (and tasted!), or any kind of element representing the country culture (traditional clothes, songs, books, movies…). Local alcohol could be exceptionally offered, otherwise all the invitees could enjoy any cocktail, beer, Umeshu and juice for just ¥500-600 !! You can organize your birthday at the Speak Easy bar as well, please contact us three (3) weeks in advance!!!
So if you miss the taste of home, or want to remember your travels, practice your language skills, or learn to know a foreign culture, the theme parties of Speak Easy international bar are definitely the place to be !! Every weekday from 19:00 to midnight (from 18:00 on Fridays and Saturdays), we have our doors open for you. Feel free to enjoy the rest of the evening with your friends while enjoying alcoholic or non-alcoholic beverages. We are waiting for you!!
And don't forget to say hello to our very friendly and international bartenders who will be more than glad to talk to you in any of the languages they speak !! So on Tuesdays our bartender speaks French and English. On Wednesdays, our Brazilian bartender will serve you delicious drinks. On Thursdays, you can speak English, and every night English and Japanese is always fine !

INTERNATIONAL PARTY!!
Every Friday and Saturday, same place, same time, come at Speak Easy international bar and enjoy our vibrant International Party !! Here you will have the chance to hang out with the coolest locals & visitors in a homely atmosphere, exchange experiences, hear what's going on in town and, why not, make plans to reconnect !
Every week from 18:00 and until late, Speak Easy bar is the place to be. You will not only have a fun and wonderful time with us but you may also meet people with whom you can make plans during your stay in Tokyo !
From time to time,  Speak Easy bar organizes Special Events & Parties aimed at getting Japanese and foreign people together. For example, we organize thematic parties like Halloween, St. Patrick's Day, St. Valentines Day, etc. Feel free to look at the NEXT EVENTS section for more up to date events. Don't hesitate and join us in our crazy nights !