Speak Easy was born on the base of 3 concepts: The first one, is to become a meeting place. A place where foreigners who think of their home land and Japanese people fascinated and interested in foreign countries converge and socialize.
Furthermore, Speakeasy is also a learning place for students at the Otsuka Gaigo Language School and, for instance, for ANYONE from Tokyo who wishes to practice a foreign language: here they have the chance to boost their language skills by conversing with the foreign staff and guests.
Finally Speakeasy becomes a tranquility place, a place where everybody, with no regards to race, sex or age can enjoy, spending a pleasant and comfortable time together. In light of these 3 themes, my hope is that all the guests at Speakeasy will have an opportunity to share their interests and curiosity while feeling at ease. Please enjoy the variety of our menu (cocktails, beer, Umeshu, etc.) in this exotic atmosphere!!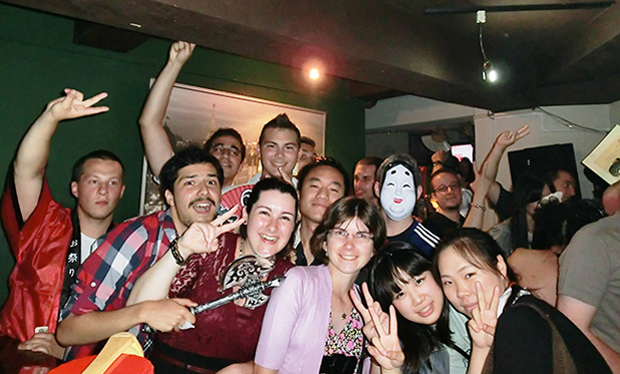 Speak Easy スピークイージーは3つのコンセプトにより誕生致しました。 一つ目は人々が集まる所。外国や外国語に興味を持っている日本人と外国人が集まり交流できる場所。二つ目は外国語を学び、練習をしたい方の為の場所。ここで世界中の人と会話をする事により語学力の向上が出来ます。そして最後にスピークイージーは穏やかで安定した場所となりました。 快適で楽しく、老若男女問わず全ての人が一緒に楽しんで頂ける場所です。是非、異国情緒漂う雰囲気と、種類豊富なドリンクをお楽しみ下さい。
Speak Easy est né à partir de 3 idées: C'est d'abord un lieu de rencontre. Un lieu où les étrangers et japonais fascinés et intéressés par les pays étrangers peuvent se rencontrer et socialiser. Speakeasy est aussi un lieu d'apprentissage. Ici, ils ont l'opportunité d'améliorer leurs compétences linguistiques en parlant avec des gens venu des quatre coins du monde. Enfin, Speakeasy est aussi un lieu de tranquillité où tout le monde, quel que soit sa race, son sexe, ou son âge, peut passer un bon moment ensemble. Goûtez à nos nombreux cocktails que nous vous proposons dans cette atmosphère exotique!!

Speak Easy nace con 3 conceptos como base: El primero, ser un punto de encuentro entre extranjeros y locales Japoneses interesados en otras culturas. El segundo, ser un lugar de aprendizaje, donde aquellos interesados en hablar otras lenguas puedan practicar con gente de todo el mundo. Y por último, Speak Easy pretende ser un lugar tolerante, donde cualquier persona, sin importar sexo, edad o país de origen, pueda pasar un buen rato conversando y compartiendo experiencias. Además, ¡¡ofrecemos una amplia carta de bebidas y aperitivos!!

PARTY PLAN
Speak Easy offers parties every weekend, aimed at getting Japanese and foreign people together. Some events are even hosted by international DJ's, and we also organize thematic parties like Halloween, St. Patrick's Day, St. Valentines Day, etc. Feel free to look at the UPCOMING EVENTS section for more up to date events.
Moreover we offer the guests party plans for wedding after parties, end-of-the-year and new year parties, as well as any other gathering during year. Do not hesitate to ask for more details!!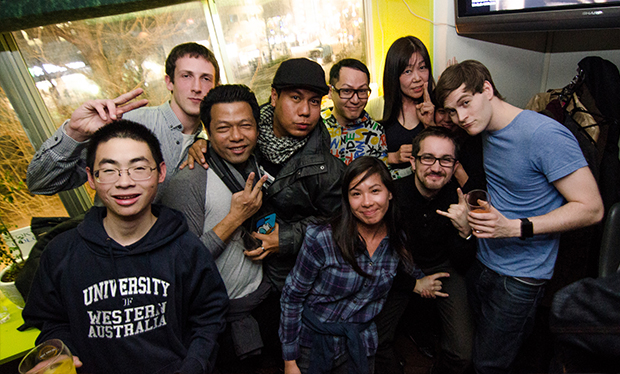 また Speak Easy では毎週末に様々なテーマでパーティーを開催しております。日本人と外国人が一緒になり、素敵な時間をお約束致します。世界中のDJ達も主催者となり盛り上げております。詳細につきましてはUPCOMING EVENTSをご覧ください。
お待ちしております。
Le Speak Easy propose des soirées chaque weekend, pour permettre aux japonais et aux étrangers de se rencontrer en faisant la promesse de passer un bon moment. Nous organisons des soirées thématiques, et avons même la chance de recevoir des DJs internationalement connus. N'hésitez pas à consulter la section UPCOMING EVENTS de notre site pour connaitre les dates.
Speak Easy ofrece eventos especiales cada semana, orientados a unir extranjeros y japoneses que deseen pasar un buen rato con nosotros. También organizamos locas fiestas temáticas, y contamos en ocasiones con la presencia de DJ's internacionales. Échale un vistazo a la sección UPCOMING EVENTS para estar al día de los próximos eventos.

OPENING HOURS
Monday – Thursday, Sunday  18:00 ~ 00:00
Friday & Saturday  18:00~ Late
取材について – テレビ局の番組などで「外国人を特別視する」取材は全てお断りしています。 それ以外の取材についてはご相談ください。
info@speakeasy-tokyo.com